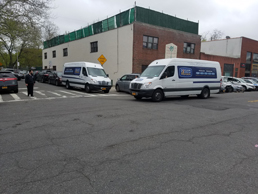 April 21, 2017
For most families, Havdalah after the last day of Pesach signifies the mad dash to turn over the house from Pesachdik to chametz...or perhaps the start of the trek to returning home after being away for 8 days. But not for Misaskim.
In the first 24 hours since Motzoei Yom Tov, Misaskim trucks, vans, and even SUVs manned by volunteers ...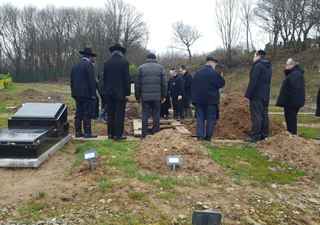 March 15, 2017
A man's body was discovered on Saddleworth Moor at Dovestone reservoir on December 12, 2015. There was no identification on him. He had no wallet, mobile phone or other identification. All police could find were three train tickets and £130 in cash. An empty thyroxine sodium medicine bottle, a drug produced by GlaxoSmithKline for the ...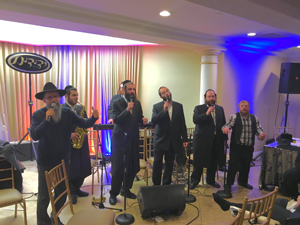 March 07, 2017

Over 1,000 children who were r"l orphaned over the past few years, received a multi-blast of happiness from Misaskim and their trove of dedicated volunteers within the past two weeks.

Without any let-up in their well-known services of dispatching first-response teams when tragedy strikes, as well as for providing shiva materials for ...




January 22, 2014

This week's snow storm wreaked havoc on the entire region and even forced Misaskim volunteers to remove mountains of snow in a cemetery just to make sure that burial would take place the same day. The story began with the passing of a woman in ...




September 10, 2013

If one child's pure prayer is a heaven-piercing arrow, then a minyan of children's tefillos is an invincible army. How much more so, then, is the awesome power of tens of thousands of tefillos emanating from the innocent mouths of tinokos shel bais raban and ascending heavenward!

For the past eighteen years, Klal Yisroel has ...



July 01, 2013

Misaskim has just released the latest edition of Misaskim Cares - Summer Safety Edition. The magazine was distributed throughout the tri-state area and can also be viewed online by clicking here

Misaskim volunteers provide numerous community-related ...



May 13, 2013

Misaskim was notified this morning about the sudden passing of Mr. Errington Albert Bailey, a dedicated and compassionate staff member at the NYC Medical Examiner's Brooklyn Office. Mr. Bailey was found deceased in his apartment by authorities after failing to show up at work. He was 57 years old. Misaskim is deeply saddened and would like to ...




April 23, 2013

This week marked an unusual range of activities at Misaskim's headquarters. In addition to the more than 35 families that were being serviced as part of the organization's daily operations, Misaskim was involved in several other situations.

Thursday, April 11th - Misaskim representatives were invited to the New York ...


January 24, 2013

Misaskim would once again like to make special mention of the incredible sensitivity shown by the NYC Medical Examiner's office towards the Kishik family who suffered the tragic loss of their daughter, Sara A"H.

Sara A"H was nifter on Tuesday at 4 p.m. and the family opted to catch the 11:50 p.m. flight to Eretz Yisroel ...




January 24, 2013

On Wednesday, January 23rd, Misaskim hosted an NYPD conference for yeshivah and Bais Yaakov school principles and administrators at the Hod V'Hadar hall in Boro Park. The meeting was called by NYPD's Brooklyn Borough South Assistant Chief Thomas Chan in light of the tragic school shooting in Newton, Connecticut. The objective of the ...



October 30, 2012

Misaskim representatives began preparing for Hurricane Sandy early in the weekend. Misaskim ensured that all its resources and emergency equipment were in good working order. Then, on Sunday Misaskim launched its School Notification System by continuously notifying school administrators and other school personnel in Brooklyn South with information ...


October 28, 2012

As local law-enforcement are preparing for Hurricane Sandy, Misaskim is urging everyone to pay close attention to all announcement and heed all warning in order to ensure the safety of all.

Misaskim will be activating its Emergency Operations Center tonight. The Emergency Operations Center is equipped to serve as a communications hub ...




October 16, 2012

Each year, the month of Tishrei heralds a season of intense preparation as Klal Yisroel gets ready for the Yomin Tovim. It is precisely during this hectic time of the year that Misaskim is bombarded with urgent requests for help from nearly every Jewish community. As the urgency surrounding Yom Tov intensifies, ...



October 16, 2012

Misaskim was contacted by airport personnel on Tuesday morning at 3:30a.m. about the tragic death of Mrs. Sabrina Kalker, A"H. Mrs Kalker was traveling on El Al flight 001 from Israel back to New York after spending the Yomim Tovim in Israel with her children, grandchildren and great-grandchildren.

During her flight home, Mrs. ...




September 21, 2012

Misaskim marked its 19th international, annual Tehillim Asifa with tens of thousands of children from around the globe. Misaskim coordinates this poignant event during Aseres Yemei Teshuvah to infuse strength and hope into all those in urgent need of a yeshuah.

Children from more than 35 local yeshivas were ...



September 20, 2012

If one child's pure prayer is a heaven-piercing arrow, then a minyan of children's tefillos is an invincible army. How much more so, then, is the awesome power of tens of thousands of tefillos emanating from the innocent mouths of tinokos shel bais raban and ascending heavenward!

For the past seventeen years, Klal Yisroel has ...



August 02, 2012

An immense Kiddush Hashem took place on Wednesday evening as law enforcement officials witnessed firsthand the derech eretz and simchah with which the crowd of nearly 100,000 Yidden conducted themselves at the Siyum HaShas at New Jersey's Met Life Stadium. Chief Christopher Trucillo of the New Jersey Transit ...




July 26, 2012

With the 12th Siyum Hashas just one week away, organizers of the massive event have stepped up efforts to ensure the highest standards of security in and around Metlife Stadium.

Agudath Israel of America has enlisted the assistance of Misaskim, which has years of experience coordinating security procedures at large community ...



July 17, 2012

Recently, Misaskim hosted Rabbi Yechezkel Roth, Shlita, Misaskim's rav and the head of the Vaad Mishmeres H'kahuna, together with a large group of rabbonim. The gathering took place at Misaskim's headquarters and was dedicated to the process of determining the halachic status of Kohanim at ...


June 26, 2012

Summer is upon us, and although Misaskim is not publishing a summer safety booklet this year (keep an eye out for our back to school issue instead), there are several safety messages that we would like to bring to everyone's attention. Youngsters are now out of school, outdoors much more, and less supervised. This leads to an increased risk of ...



June 12, 2012

In addition to daily deliveries and pick-ups, Misaskim volunteers had their hands full with other meis mitzvah related services this past week. Misaskim arranged a kosher burial for two meis mitzvaha's and ensured another meis with a Jewish burial. The organization also welcomed two new sefer torahs to its ...



May 21, 2012

Misaskim received much praise at the conclusion of the Asifa at Citi Field. The acclaim originated from individuals within the law-enforcement community who has been working hand-in-hand with Misaskim for months prior to the event.

One security official expressed his admiration to Misaskim regarding the politeness and ...



May 16, 2012

Tens of thousands are expected to gather at Citi Field on May 20th to attend the internet Asifa organized by Ichud Hakahillos. While those gathered explore the negative impact technology may have on our youth, Misaskim, along with hundreds of security personnel, will have all their resources available to ensure the safety and ...




April 25, 2012

Hundreds of medical examiners, forensic experts, law-enforcement and military personnel are participating in the International Mass Fatality Management Conference that began on April 25th. The conference is being held at the Medical Examiner's Office in New York in order to bring together international and domestic experts that are leaders in ...


April 18, 2012

Misaskim received a call on its emergency hotline this Chol Hamoed from a women who currently lives in Flatbush. The woman explained that her aunt, who lives in Palm Beach, Florida, had passed away and that the family was planning to cremate the body due to lack of funds.

The caller was understandably broken-hearted about the ...




April 17, 2012

At this year's Misaskim Chol Hamoed outing for children who have lost a parent, participants were treated to a unique program that included exhibits manned by nearly 40 FBI agents. The youngsters had the opportunity to meet the special agents and learn how they work to keep our country safe. They also had a chance to find out about the ...



March 28, 2012

On Thursday, March 22nd, Misaskim, together with Rabbi Joel Friedman, a chaplain and community liaison at the Bergen County Sheriff's office, coordinated a law-enforcement training session in Bergen County.

The objective of the training session was to inform members of the law-enforcement community about Jewish traditions relating ...



March 21, 2012

At the outer edge of The Hebrew Cemetery in Newark, NJ large sections of the rusting fence are missing and many broken tombstones lay strewn around. These remnants of a once vibrant Jewish community now lay sadly in utter neglect.

This cemetery was founded by the Landsmanshaftn -- or Jewish aid societies -- of Newark that were ...


February 29, 2012

Throughout Jewish history, Zayin Adar marked an important day in the Jewish calendar for members of the Chevrah Kadisha. On this day, Hashem himself performed the duties of the Chevrah Kadisha and buried Moshe Rabbeinu on the mountain.

It is therefore customary for members of Chevrah ...




February 27, 2012

On Monday, February 27, 2012, Misaskim hosted FBI Assistant Director in Charge of the New York Field Office, Ms. Janice Fedarcyk, and members of her staff. The objective of this event was to give Ms. Fedarcyk a better understanding of the Jewish community. Ms. Fedarcyk was introduced to numerous representatives of local and national organizations, ...



February 08, 2012

On Wednesday, February 8th, Misaskim hosted FDNY Commissioner Salvatore J. Cassano as part of an initiative to promote public safety. Misaskim's goal is to coordinate the activities of city officials with those of local community organizations, including Hatzolah, Shomrim, and Chai Lifeline. By having these organizations work together with ...



January 30, 2012

The Federal Bureau of Investigation (FBI) has implemented cultural-diversity training to provide its agents with the knowledge they need when working with the many and varied cultures present in New York. Misaskim's representatives conducted a training session at the New York office of the FBI to educate newly-assigned federal agents regarding ...


January 25, 2012

Misaskim received a phone call on its hotline last week from an individual who was calling in about a mes mitzvah situation. In fact, the niftar was already at a funeral establishment in Baltimore to be cremated. The caller identified the niftar as his coworker's father who recently passed on. Unfortunately, the ...



December 08, 2011

UPDATE: We have not reached our goal yet -- we still need to raise $3000.00. PLEASE HELP US TODAY!

Misaskim is calling upon acheinu klal yisroel for urgent help in covering the costs for kvurah for an unprecedented amount of meisei mitzvah.

Misaskim was contacted last week by an ...




November 28, 2011

Law Enforcement and Educators in Partnership More than a hundred educators participated in a school safety forum hosted by Misaskim on Monday, November 28th. The educators represented nearly 200 Yeshivas and Bais Yaakovs from the 13 precincts in Brooklyn South. These educators and administrators are responsible for the safety of 52,000 ...



November 10, 2011

Law enforcement officials from Waterbury, Connecticut, traveled to Brooklyn on November 10, 2011, to meet with Misaskim representatives. Mr. Yitzy Rabinowitz, liaison from the Waterbury Police Department and a community activist, orchestrated the meeting in an effort to meet the needs of the growing Jewish community of Waterbury.

...



November 09, 2011

In what he termed an "eye-opening experience," United States Congressman Bob Turner toured Misaskim's headquarters on Tuesday, November 8th, and met with members of Misaskim's board.

Turner, newly elected as congressman in New York's 9th Congressional district, is already considered a rising star on the House ...



November 08, 2011

Last week, a woman contacted Misaskim with a request for assistance in bringing her sister to kever yisroel. The nifteres had passed away in Richmond, Virginia, while living there with her roommate. By the time the woman learned of her sister's passing, the body had already been taken to the Cremation Society of Virginia.
...




November 01, 2011

By Hamodia Staff
More than forty-eight hours after a powerful snowstorm hit Rockland County, a significant number of Monsey Residents are still without electricity.

With the leaf-laden trees felled by the heavy wet snow, and wires down throghtout the area, many streets remained impassible.

"Usually when it ...


October 24, 2011

A dozen coach buses carrying more than 600 yisomim arrived in Manhattan Beach last week on Monday, the third day of Chol Hamoed. The children who were traveling on those buses came from a variety of locations throughout the tri-state area, including Boro Park, the Five Towns, Flatbush, Lakewood, Long Island, Monroe, Monsey, New ...




October 10, 2011

Misaskim continuously aims to develop positive relationships with officials on all levels of government in an effort to support community needs. Various officials have met with Misaskim representatives since May. Many important issues have been discussed during these meeting and Misaskim representatives hope to soon report the positive results of ...



October 05, 2011

This afternoon, tens of thousands of children assembled for a unique gathering that marked their participation in Misaskim's 18th annual Tehillim Asifah. Misaskim representatives coordinate this poignant event during Aseres Yemei Teshuvah to infuse strength and hope into all those in urgent need of a yeshuah.

...



October 03, 2011

If one child's pure prayer is a heaven-piercing arrow, then a minyan of children's tefillos is an invincible army. How much more so, then, is the awesome power of tens of thousands of tefillos emanating from the innocent mouths of tinokos shel bais raban and ascending heavenward!

For the past ...



September 27, 2011

While it certainly is not the first time that the NYC Medical Examiner's office extended itself to accommodate the Jewish community, there is no doubt that it went beyond the call of duty last night. Misaskim would like to publicly thank Dr. Stephen James DeRoux, Acting Deputy Chief Medical Examiner, and Mr. Errington Bailey for their ...




September 19, 2011

On Monday, September 19, 2011, Misaskim hosted an acknowledgment ceremony to honor the recent promotions of Chief Joseph Fox, Chief Thomas Chan, and Chief William Aubry of the New York City Police Department.

Chief Fox became the new Chief of Transit for the City of New York, Assistant Chief Thomas Chan was transferred to Commanding ...



September 01, 2011

Brooklyn Borough President, Marty Markowitz, the most recent visitor among a series of officials who have visited Misaskim since August, met with Misaskim representatives on Thursday, September 1st. During the meeting, it became apparent that both parties are in profound agreement - sharing a common agenda to improve the quality of life of the ...



August 25, 2011

Misaskim recently hosted New York State Senator Diane Savino (23rd Senate District) and Councilman Brad Lander (39th Council District).

Senator Savino paid a visit to Misaskim on Thursday, August 18th. She marveled at Misaskim's positive interactions with the law enforcement community and commended the organization for its ...



August 24, 2011

Although conflicting reports circulated following the brutal murder of Steve Hafon OBM, Misaskim received a call on its 24-hour emergency hotline confirming that the victim was indeed of the Jewish faith.

Misaskim volunteers were promptly dispatched to the crime scene and assisted the family to preserve kavod hames. In ...



August 11, 2011

Misaskim began the process of obtaining a Sefer Torah leilui nishmas Leiby Kletzky a"h. Representatives met with Rabbi Yechezkal Roth, Shlita, to obtain his guidance in choosing the yerios and the sofer for this unique project. The Rav carefully reviewed the samples and consulted with members ...



August 09, 2011

On Erev Tisha B'Av, Misaskim distributed hundreds of shivah chairs in Monsey, Lakewood, Brooklyn, and Monroe. The chairs were delivered to the elderly or disabled in our communities. Misaskim received a record number of calls before Tisha B'Av set in, requesting the low chairs. The organization first delivered the chairs ...




August 04, 2011

Congressman Jerrold Nadler, Representative for New York's 8th Congressional District, toured Misaskim's headquarters today. The Congressman's visit was inspired by the vital role Misaskim played during the Kletzky tragedy.

Misaskim volunteers worked tirelessly throughout the harrowing ordeal to provide assistance and ...



July 26, 2011

On Tuesday, July 26th, the NYPD was getting ready to wrap up its nearly two-week-long investigation at the Levi Aaron house on East 2nd Street. Before they prepared to return the house to its owners, members of the NYPD reached out to Misaskim's Disaster and Recovery team to come down to the house for another sweep to ensure kavod ...


July 21, 2011

Yesterday, the news broke that the Medical Examiner's Office had announced the official cause of death of Leiby Kletzky a"h. What didn't make the news, however, was the extreme sensitivity that the New York City Medical Examiner's Office displayed toward the Kletzky family and, in fact, continues to display toward the ...




July 20, 2011

The horror and grief that has assailed our community over the past week was felt throughout the city and around the globe. People all over the world sighed with disbelief when the shocking reports were released last Tuesday. In fact, Misaskim received inquires and offers of assistance from London, Israel, Australia, South Africa, Germany, and ...



July 15, 2011

It is with a broken heart and spirit that Misaskim, together with all of Klal Yisroel, mourns the tragic loss of little Yehudah a"h ben Nachman. Misaskim volunteers worked tirelessly, offering support throughout this harrowing nightmare.

Misaskim pooled all its resources, and much more, in an effort to provide ...



June 19, 2011

The Misaskim organization, most famous for the daily services that it provides to grieving families, has recently expanded its services by implementing a Shabbos Hotline, staffed by especially-trained non-Jews, to help coordinate any situations regarding k'vod hameis that should arise on Shabbos. This past weekend, true to the ...




June 19, 2011

On Motzoei Shabbos Shlach, dedicated Misaskim volunteers were again called upon to play a key role in community service. A medical team and their sensitive equipment needed to get through airport security. These doctors are scheduled to perform emergency heart surgery on the posek hador, Maran haGaon Rav Yosef Shalom Eliyashiv ...



June 16, 2011

No need for added stress this summer, Misaskim will see you safely through the summer months with our newly expanded 84-page Gates of Chesed Safety Magazine. The magazine is set to be released next week and will be distributed to 100,000 families in the tri-state area. The magazine can also be viewed online at www.misaskim.org.

...



May 31, 2011

More than 50 chaplains from the tri-state area attended a dinner hosted by Misaskim last week. This was the first time that a group of orthodox law-enforcement chaplains has gathered together. The chaplains, who serve in over 45 law enforcement agencies, including military and penal institutions, welcomed the evening of collaboration.

...



May 24, 2011

Misaskim is pleased to announce the appointment of Rabbi Yeruchim Silber as its Director of Community and Government Relations. Rabbi Silber's appointment highlights the rapid growth that is currently being experienced by Misaskim.

In addition to its popular G'mach Nichumim, Misaskim has expanded the variety of ...



May 18, 2011

Last week, the Turkeltaub sisters - Brenda Elishis, Paula Kohn, and Cindy Turkeltaub - Grosberg a"h - alongside Misaskim volunteers, welcomed the 19th sefer torah to join Misaskim's family of sifrei torah. A joyous Hachnasos Sefer Torah was held at the Ohr Torah Shul in West Orange NJ. The Turkeltaub sisters ...


May 13, 2011

May 13, 2011 - During these hours of deep sadness and grief over the tragic death of Yoily Englander, a"h, Misaskim feels compelled to wrap up the heartrending task they were called upon to do, by publicly thanking the New York City Medical Examiner's Office.

While law enforcement and medics we"h, Misaskim ...



April 21, 2011

On April 21, 2011 hundreds of children from Flatbush, Boro Park, Williamsburg, Queens, Long Island, Monsey, Monroe, New Square, Lakewood, Long Branch, and Morristown participated in Misaskim's Chol Homoed outing designed to provide a day of reprieve for families who have suffered the loss of a parent. Misaskim volunteers also ...



March 05, 2011

March 5, 2011 - Misaskim held a Melava Malka this past Motzie Shabbos to demonstrate its appreciation and to encourage its Monsey, New Square, and Kiryas Yoel volunteers who dedicate time and effort to the organization's mission. The number of volunteers in Rockland County and Kiryas Yoel area has increased considerably over the ...



March 01, 2011

Mr. Moshu Hadaya was last seen chopping wood in his backyard in Staten Island, New York, on Sunday, February 20th. When his friend did not get a response after repeatedly trying to reach him on the following day, he went to Moshu's home to check up on him. Moshu's lifeless body was found in the backyard where he had last been seen chopping ...



February 28, 2011

On January 25, 2011 Misaskim reported that Nazi-era RIF soap was handed over to the organization for burial. The incident received much attention as it opened up raw and painful scars dating back to the days when our parents were young and suffered Nazi atrocities. It rekindled a debate and prompted people to question, research, and delve deeper ...




January 25, 2011

At Misaskim, unexpected and sad realities of life are unfortunately a daily occurrence. But last week, Misaskim was presented with an even more perplexing question than usual: what to do with a bar of soap that many Holocaust survivors believe contains human remains? This rare bar of soap, engraved with the letters RIF, was recently discovered by ...


January 18, 2011

Misaskim mourns the loss of a dedicated and beloved volunteer and askan - R' Yossi Pressburger ZT"L. R' Pressburger has been involved in various Misaskim projects and has selflessly and willingly given his time and resources to the community.

On Tuesday, January 11th, Misaskim received a phone call from Mr. ...




December 25, 2010

Misaskim's 24-hotline began ringing shortly after Shabbos was over. This call came from Englewood, N.J., requesting Misaskim's assistance in the aftermath of the tragic death of Dr. Paul Kudowitz, A"H, 57, who was struck and killed on his way to shul on Friday night. Three volunteers from Misaskim's Disaster and Recovery ...


December 20, 2010

Misaskim volunteers assisted last night at the scene of the tragic accident that took the life of Mrs. Chana Walfish A"H. Despite frigid temperatures and biting winds, volunteers stayed at the scene for over three hours to ensure kavod hameis.

The accident happened at about 7:15 last night when a 15-passenger van jumped ...


December 15, 2010

The shocking news of Mark Madoff's suicide was followed by disbelief as the Jewish community learned of the family's plan to have his body cremated. Misaskim has been contacted numerous times since the family's decision was publicized in the media, and asked whether anything could be done to arrange a Jewish burial for Mark's body. ...




December 13, 2010

During the week of October 18th, Misaskim was notified that an elderly woman had died at Coney Island Hospital and that her body had been lying in the morgue for a few days. This information led Misaskim to take on the highest Mitzvah of all: Mes Mitzvah.

The first course of action was to contact a niece of the deceased-the only lead ...




December 07, 2010

December 6, 2010 - They danced, they sang, and they rejoiced with every fiber of their being. All, in their own unique way, expressed pure joy as they rejoiced with the Torah. HASC adults, who volunteer each Monday at Misaskim's headquarters, were invited to join Misaskim in a unique Hachnosas Sefer Torah celebration - one that ...


December 02, 2010

We have only to open our eyes to realize how often we are presented with numerous opportunities to fulfill our destined roles in Hashem's plans. For Mr. Yossie Margaretten, a longtime Misaskim volunteer, the following story confirmed a role that was uniquely designed for him.

Mr. Yehuda Silberstein and his wife and infant rushed to ...



November 30, 2010
November 30, 2010
November 08, 2010

MISASKIM TO LAUNCH NEW INITIATIVES
Innovating New Solutions to Community Challenges During Trying Times

Misaskim is now gearing up to unveil a series of new initiatives and programs to maximize its efficiency in responding to community crisis and coping with tragedy. The organization is expected to release the details of the ...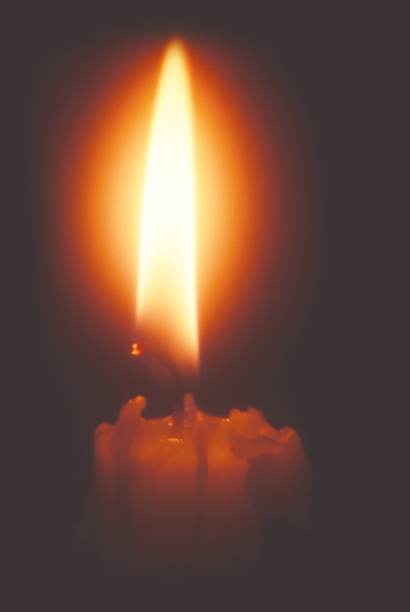 November 03, 2010

Europe, 1946. After the incineration of European Jewry, a man turns his sights to American shores. Physically broken, he is forced to turn his back on the ashes of his entire family, his hometown, and the only life he ever knew. Arriving penniless and alone, he clings to his unshakeable faith in his Creator, deriving solace from the precious ...



May 18, 2010
Written for Mishpacha Calligraphy
By Basie Goldman, as told to Azriela Jaffe
My husband, Nachman and I were zocher to bring into the world our sixth boy, Tuvia, on Purim, 2007. It was a tremendous bracha, and we were so thankful to HaKadosh Baruch Hu for granting us this special all-boy ...



March 17, 2010

A woman was R''L killed after she was pinned under a bus in the East Tremont section of The Bronx,

The accident occurred at approximately 8:00AM Wednesday morning, at the intersection of East Tremont Avenue and Crotona Avenue.
She was pronounced dead on the scene, and NYPD investigators soon found out that she was ...


March 13, 2010
Torrential rains, raving fires, downed electricity and emergency landing - it's mind-boggling to think how many times Misaskim answered calls for help within twenty-four-hours.
It started minutes after Shabbos when Misaskim received a call from Teaneck, NJ, that a tree fell and killed two people coming ...


January 02, 2010

Misaskim. It has become a household name. It is an organizational name people use when tragedy R"L strikes. They are reached out to whether it's to prevent an autopsy, or to provide their "avodas hakodesh" at the scene of a tragedy, or for their volunteers to "set up" a house for a family sitting shiva, or for ...



January 01, 2010

When Mr. Richard Blau passed away on Wednesday, December 27, 2009, he should've had an autopsy as part of the standard protocol for all residents in his institution in Buffalo, NY. When the staff Rev. notified the only known relative about the death, the relative was in a quandary. An elderly fellow with limited resources, the relative ...



January 01, 2010

After working alongside the NYS Department of Homeland Security during numerous occasions to address security, health and safety issues in our community, Misaskim has invited the NYS Department of Homeland Security to tour Misaskim's headquarters and gain a better understanding of the services Misaskim offers to the community and to ...