Record Breaking: Over 800 Participants join Misaskim's Chol Hamoed Trip
April 03, 2018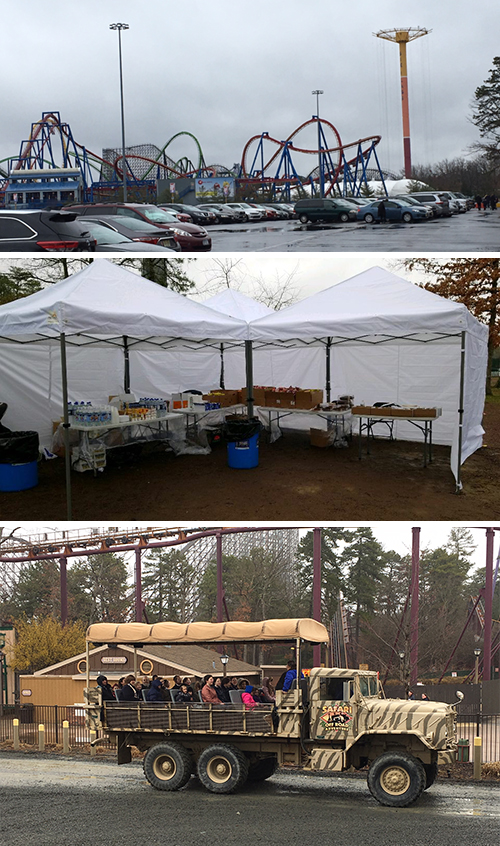 As Pesach arrives each year without fail, so does Misaskim's Chol Hamoed Experience for yesomim. This event is eagerly anticipated by families throughout the tristate area who await the invitation all year long, wondering what Misaskim has planned next. This year, Misaskim's free Chol Hamoed Pesach event took place on Tuesday at Six Flags Great Adventure and Wild Safari in Jackson, NJ.

Due to the inclement weather, Misaskim had a tent set up all day for the families to enjoy snacks and drinks and have a comfortable place to eat lunch. Over 800 people joined Misaskim for a full day of fun and excitement. Although the forecast predicted a rainy day for Tuesday, most of the day was dry and rain-free, allowing everyone full use of the amazing rides and amenities the park has to offer.

From terrifying roller coasters speeding through the sky, to gentle rides for young children to enjoy, to carousels and Ferris Wheels for the whole family, there was something for everyone.

On top of all that, the thrilling 350-acre Safari tour among the coasters had everyone eagerly waiting their turn in line. After boarding the military open-air trucks, an incredible tour of over 1,200 animals began. There were giraffes, lions, tigers, kangaroos, deer, zebras, rhinoceros, ostriches, bears, and much more. Seeing animals from six continents and over 70 species up close, had everyone on board clicking their cameras a whole ride through, capturing memories of this unbelievable experience.

At 3:30 in the afternoon Benny Friedman put on an outstanding concert in the in-door park theater. The kids were able to go on stage and take pictures with Benny, putting huge smiles on their faces. The music and dancing was a true enhancement to an already amazing day. It was a beautiful Chol Hamoed experience leaving everyone with truly every-lasting memories.
View Photos
Back to previous page