Misaskim's Special Services Unit Constructs Air-Conditioned Tent for Large Family
July 05, 2017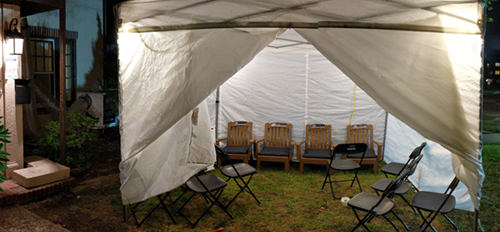 This past week saw an unusually high number of aveilim sitting shiva in the Tristate area, stretching Misaskim's inventory to the limit. Many of the sites serviced were averaging over ten aveilim per site, but in one instance, in Lakewood, New Jersey, there were 24 aveilim sitting in one home, and the house was literally bursting at the seams.

Misaskim's Lakewood Division went above-and-beyond the call of duty by erecting an air conditioned tent (see photo) for some of the aveilim to sit, as well as provided heavy-duty air conditioning for the house itself, which, due to the warm weather, could not handle the massive crowd of visitors. This was in addition to 24 sets of essential shiva furniture, a Misaskim sponsored Sefer Torah and other adequate tashmeshei kedusha for the many aveilim and nechumim.

Misaskim provides support and assistance to individuals experiencing the loss of a loved-one by providing them with vital bereavement services, including physical and moral support, to assist the grief-stricken with their many challenges during times of crisis or loss.
Back to previous page