Misaskim Assists During Hurricane Sandy
October 30, 2012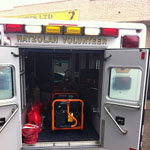 Misaskim representatives began preparing for Hurricane Sandy early in the weekend. Misaskim ensured that all its resources and emergency equipment were in good working order. Then, on Sunday Misaskim launched its School Notification System by continuously notifying school administrators and other school personnel in Brooklyn South with information they need as the storm progressed. The notification system was also adapted during the storm to dispense important safety information to tens of thousands individuals in our communities.

"Thank you so much for your constant updates," one recipient wrote to Misaskim. "It gave me a sense of security in this sea of chaos."

Misaskim's Emergency Operations Center was activated late Sunday night with its generators set on standby so that the center can continue to operate in a black-out. The Emergency Operations Center served as a communications hub so that Misaskim can work in concert with other community organizations such as Hatzolah, Chaveirim and Shomrim. Misaskim representatives were in touch with the commanding officers of Brooklyn South police precincts throughout the storm, coordinating communications between law enforcement and the community.

Volunteers at the Emergency Operations Center intercepted many calls from individuals and family in need of assistance but were unable to get through to 911 because their phone lines were inundated. Misaskim fielded these calls and forwarded all requests to local police precincts.

Misaskim volunteers in Brooklyn and in Rockland County were out until the early hours of Tuesday morning distributing generators for homebound patients who are on life-support equipment and have lost power. A generator was also delivered to central Hatzolah so that their operations were not halted by the storm.

In Rockland County, volunteers used a generator to supply electricity for the Ateres Chaya Sara hall where a wedding was taking place. They also set up their light towers so that the chupah can be conducted.

Misaskim would like to offer our heart-felt gratitude to all Hatzolah, Shomrim, Chaveirim and Misaskim volunteers who worked tirelessly to support our community during this superstorm.

People interested in signing up for future Misaskim updates can do so by signing up on our newsletter signup tab at www.misaskim.org.
Back to previous page