Misaskim Conducts Law-Enforcement Training in Bergen County
March 28, 2012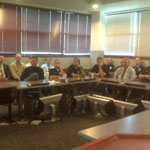 On Thursday, March 22nd, Misaskim, together with Rabbi Joel Friedman, a chaplain and community liaison at the Bergen County Sheriff's office, coordinated a law-enforcement training session in Bergen County.

The objective of the training session was to inform members of the law-enforcement community about Jewish traditions relating to death. Most of the participants were from the Bergen County Sheriff's Office Bureau of Criminal Investigation (BCI). The BCI is comprised of the Detective Unit, the Crime Scene Unit, and the Firearms Identification Unit. BCI personnel are frequently called to accident and crime scenes, and may be confronted with Jewish fatalities, especially since the Jewish community in Bergen County is continuing to expand. In addition, many Jewish families from Brooklyn spend the summer months in the Catskills and travel back and forth to New York via the highways and roads of Bergen County. Law-enforcement personnel from surrounding towns were also present at the training session, at which many traditions relating to death were discussed. The detectives learned about the sacredness of the deceased's body and the need for a quick burial. They explored Jewish commitment to ensuring that the body of the deceased is buried in its entirety, including a discussion of the efforts that are consistently exerted to prevent autopsies. In addition, Misaskim representatives spoke about attempts to rescue Torah scrolls should a flood or fire occur. They also outlined the various types of assistance the organization provides to families who are either in mourning or who have suffered a significant loss.

The training session was hosted by Bergen County Sheriff Michael Saudino. The Sheriff himself also participated in the hour-long session. "Misaskim's training offered vital information for law-enforcement personnel who tend to face a variety of situations that may involve deceased members of the Jewish faith," said Sheriff Saudino. "I commend Misaskim volunteers for their commitment to guard the dignity of the deceased." The Sheriff then explained that he was pleased to host Misaskim's training session, as his office aims to learn more about Jewish traditions as well as about those of other faiths. This knowledge enables law-enforcement personnel to work hand-in-hand with the communities they serve.
View Photos
Back to previous page