Misaskim Hosts FDNY Commissioner
February 08, 2012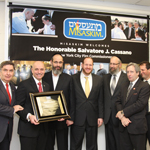 On Wednesday, February 8th, Misaskim hosted FDNY Commissioner Salvatore J. Cassano as part of an initiative to promote public safety. Misaskim's goal is to coordinate the activities of city officials with those of local community organizations, including Hatzolah, Shomrim, and Chai Lifeline. By having these organizations work together with city agencies, it is hoped that the unique needs of our growing community will be effectively met. Commissioner Cassano has been active in this area, and his ongoing efforts on our behalf were recognized at the meeting by presenting him with a plaque.

Representatives from various government agencies and elected officials were present. Attendees included Deputy Inspector Sprague, commanding officer of the 66th Precinct, as well as well as commanding officers of other local precincts. Councilman David Greenfield, Councilman Brad Lander, and Councilman Michael Nelson also participated.

Councilman Greenfield thanked Misaskim for taking the lead in public safety and community issues and praised representatives of Hatzolah, Shomrim and Chai Lifeline for their commitment to our community. Regarding Commissioner Cassano, he then told the audience, "This Commissioner is actually the most popular Commissioner in the City of New York today."

Greenfield highlighted Commissioner Cassano's pragmatic approach to getting the job done well, and he praised his success at continuously reducing fire-related deaths and injuries during his tenure. Councilman Lander elaborated on the acts of heroism displayed by all members of the FDNY on a daily basis. "The people of New York City are incredibly lucky to have this set of people who are willing to do that," he said.

Councilman Nelson echoed his colleagues praise for the Commissioner and for the all the members of New York's finest.

Fred Kreizman, Assistant Commissioner of the Mayor's Community Assistance Unit, was also present to witness the local community organizations working together. He thanked all those present for their tireless efforts in promoting and preserving community safety.

Rabbi Joseph Potasnik, who serves as a chaplain for the FDNY, was also recognized at the event. Rabbi Potasnik was awarded a plaque in appreciation of his care, concern, and lifelong involvement on behalf of the Jewish community.

In 2010, Rabbi Potasnik and Commissioner Cassano arranged a chol hamoed event at the FDNY Training Academy for hundreds of orphaned children. The children saw firsthand how New York's bravest are trained to battle fires. "When I saw the children there that day with the smile on their faces," said Commissioner Cassano, "we all felt really happy. Because we knew that what we were doing was a mitzvah. Upon receiving his award Commissioner Cassano emphasized the importance of community awareness. "From the time I came into this great fire department we were taught to work hard for the community," he said. "Everything that we do at the Department is only because it's the right thing to do and it's the honorable thing to do. Everybody in this room is here for the same reason - whichever organization you represent."

The Commissioner was visibly impressed after touring Misaskim's headquarters and learning all about the organization's daily operations. He offered his assistance and support for several proposed community projects. He thanked all those who had gathered to honor him and stated that he looked "forward to working for the community for many, many years."
View Photos
Back to previous page