Misaskim Conducts Training Session at FBI New York Field Office
January 30, 2012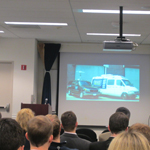 The Federal Bureau of Investigation (FBI) has implemented cultural-diversity training to provide its agents with the knowledge they need when working with the many and varied cultures present in New York. Misaskim's representatives conducted a training session at the New York office of the FBI to educate newly-assigned federal agents regarding Jewish cultural practices related to death.

During the session, the agents gained an understanding of various Jewish traditions, including requirement for a hasty burial and the need to bury the body of a deceased in its entirety. Misaskim explained the reasons for its endeavors to prevent an autopsy on a deceased Jewish person whenever possible. The Misaskim participants also outlined the organization's role of serving as a liaison between law enforcement and bereaved families when it becomes necessary to ensure that legal requirements, as well as Jewish traditions, are upheld.

"I learned a lot about Misaskim, and about particulars of how to better extend the appropriate sensitivity in dealing with deceased members of your faith," said Special Agent Tim Chapman. Chapman was among approximately 70 agents who participated in the training session. "I admire the sense of self-sacrifice and the great internal fortitude Misaskim must have in order to carry out its mission."

Misaskim's training session at the FBI was preceded by months of dialog and relationship-building. In fact, Misaskim has hosted representatives of the FBI several times recently in an attempt to further its goal of building bridges between the Jewish community and law-enforcement agencies.

Only a few weeks ago, as an outcome of the working relationship that has been established with the Bureau, the FBI participated in a school safety forum hosted by Misaskim. Special Agent Scott Olsen spoke to educators about important issues related to the connection between child safety and employee background checks.

FBI representatives from the New York Field Offices and from the New Jersey Field Office toured Misaskim's facilities in the fall and early winter. The representatives were visibly impressed by Misaskim's activities and capabilities. In October, several agents also participated in Misaskim's Chol Hamoed event for orphaned children. "This was the first time I ever attended such an event and it was a great experience," said Evelyn Vera. "It was amazing to see how much Misaskim does and how happy the kids were."

Misaskim and The FBI are continuously discussing numerous ways in which the two organizations can work together to better serve the Jewish community. "The FBI is reaching out to Misaskim as it aims to strengthen its relationship with all sections of the Jewish community," explained Special Agent Jacqueline Delaney. "Misaskim is involved in every Jewish community in the tri-state area and is in a position to partner with the Bureau in building bridges between the FBI and the Jewish community so that we can better do our job of protecting the public."
View Photos
Back to previous page