Misaskim Hosts School Safety Forum
November 28, 2011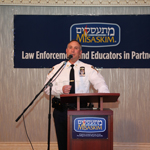 Law Enforcement and Educators in Partnership More than a hundred educators participated in a school safety forum hosted by Misaskim on Monday, November 28th. The educators represented nearly 200 Yeshivas and Bais Yaakovs from the 13 precincts in Brooklyn South. These educators and administrators are responsible for the safety of 52,000 children and 8,000 staff members each day.

The forum was arranged by Misaskim upon the request from local police officials, who sought to meet up with educators after several safety issues recently surfaced. Members from Hatzolah and Shomrim were also present at the forum.

School personnel were first addressed by Assistant Chief Thomas Chan, who was recently promoted to Commanding Officer of Brooklyn South. Before being promoted, Chief Chan served as the Commanding Officer for school safety in New York City. He stressed the importance of a school safety plan in the event of a fire, medical emergency, flood or any other disaster. "NYC requires every school to have a school safety plan," the Chief told those gathered.

Chief Chan also offered several important tips in preventing any mishaps that may endanger the safety of our children. He explained the vital role of video surveillance in preventing and responding to emergencies at a school facility. The Chief reported that, statistically, educational facilities are more vulnerable to foul play and therefore schools must take the prevention initiatives seriously.

Next, school administrators and principals were addressed by commanding officers of their local precincts. The commanding officers praised the working relations they have with schools and pointed out how integral these working relations are in keeping our schools safe. The officers met one-on-one with administrators at the end of the forum to address individual concerns.

Misaskim also introduced a safety notification system at the forum. This system will allow Misaskim to disseminate emergency information to school administrators and principals should an emergency arise -- especially after school hours. This system was established primarily in response to several potentially dangerous incidents that occurred in or near school facilities; for instance, suspicious individuals lurking near a school building. The system will enable schools to be warned in record time in order to prevent a tragedy from occurring. In addition, Misaskim will also be able to relay timely safety messages from various law-enforcement agencies to school officials as well as to dispel rumors.

"This school notification system is an unbelievable job to get together," Inspector Philip VanGostein of the Counterterrorism Unit told the audience. "You really need to share information with each other. Share your best practices." He urged schools to contact his office for safety assessments and counseling.

Councilman David Greenfield, who also attended the forum, stressed that currently the biggest concern in the Yeshiva school system is a scarcity of resources. "The reality is that in today's harsh economic times ... Yeshivos face a fiscal crunch," he said. However, Greenfield counseled schools to make use of the technical resources they do have. He advised that schools take advantage of the security assessment offered by their police department. He also suggested that schools assign an individual to be in charge of all security issues. He assured the audience that his office is doing everything possible to allocate resources toward the safety of our schools and Yeshivas.

Then, a representative from the Federal Bureau of Investigation addressed the school administrators and principals. Special Agent Scott Olsen outlined pertinent child safety issues including tips on conducting employee background checks. He demonstrated child identification kits that could make the difference if a child is missing. Parents are responsible to hold on to these identification kits and will hand them over to law enforcement only in the event of an emergency. Misaskim is working to make these kits available to all the children in our communities.

Special agent Olsen then went on to explain the proper procedures involved to conduct employee background checks. He related numerous situations in which children were exposed to dangerous individuals because of a lapse in the background check procedure. For example, Misaskim was recently involved in a search for a missing child. A nearby property manager was suspected in the case. When the local police called him in for questioning, they uncovered that he had a record of 11 prior arrests, including manslaughter. School officials need to be extremely cautious when hiring individuals who will be around children.

Toward the end of the session, school administrators and principals reached out to the appropriate law-enforcement agents to discuss safety issues they need to resolve. "It's always good to be reminded about security," added Mir Yeshiva's administrator. "It's never enough."
View Photos
Back to previous page