Misaskim Builds Bridges with Waterbury Community
November 10, 2011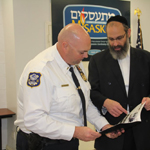 Law enforcement officials from Waterbury, Connecticut, traveled to Brooklyn on November 10, 2011, to meet with Misaskim representatives. Mr. Yitzy Rabinowitz, liaison from the Waterbury Police Department and a community activist, orchestrated the meeting in an effort to meet the needs of the growing Jewish community of Waterbury.

Deputy Chief David Jannetty and Lieutenant Scott Stevenson of the Community Affairs Bureau spent several hours at Misaskim to learn about the unique needs of the Jewish community. They were impressed by the stellar working relationship that Misaskim has with the NYPD and other important law enforcement agencies in New York City. The officials explored the various community services Misaskim offers and how it benefits the community as well as law enforcement agencies.

After touring Misaskim's facility, Jannetty noted that "Misaskim thinks about everything." He expressed his appreciation to Misaskim representatives and to Mr. Rabinowitz for taking the time to share with him the inner workings of the Jewish community and its successful interactions with the law-enforcement community. "Your operations here exceeded my expectation and are very impressive," said Jannetty. "I learned so much in such a short amount of time."

Detective Adam Berish from the Police Commissioner's Liaison Unit was also present at the meeting. Detective Berish related first hand how the NYPD and Misaskim have resolved many situations by working together. Berish also highlighted the key role Misaskim plays in assisting the community in times of crisis and tragedy.

All present at the meeting agreed that it would be in everyone's best interest to continue working together to meet the needs of the Waterbury Community.

The Waterbury officials then went to the Tomchei Shabbos warehouse where they watched packages for the needy being prepared and delivered. They received a warm blessing from Tomchei Shabbos founder Mr. Hershkowitz, who has spent a lifetime caring for the hungry in our communities.

Next, Jannetty and Stevenson were introduced to Deputy Inspector Eric Rodriquez at the 70th Precinct in Brooklyn. The officials discussed crime fighting tactics and several officers from the Community Affairs Division described how the community and the police department continuously work together for a safer community. Jannetty and Stevenson also met with the members of the Flatbush Hatzolah, including coordinator Moshe Williger, and several Community Affairs officers from the 63rd Precinct, before returning to Waterbury.
View Photos
Back to previous page