Comptroller Praises Misaskim's Operation
October 10, 2011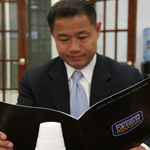 Misaskim continuously aims to develop positive relationships with officials on all levels of government in an effort to support community needs. Various officials have met with Misaskim representatives since May. Many important issues have been discussed during these meeting and Misaskim representatives hope to soon report the positive results of these meetings.

Most recently, New York City Comptroller John C. Liu visited Misaskim's headquarters. The comptroller reviewed the hundreds of items in Misaskim's g'mach nechumim and learned more about Jewish mourning rituals. In Misaskim's Emergency Operations Center, Comptroller Liu asked many questions about Misaskim's Crisis Management capabilities and was visibly impressed with the Center, calling it "state-of-the-art." The Comptroller was also interested in learning about Misaskim's varied and multiple community services, including its school safety initiative and its chaplaincy forum.

"It has been a real delight to visit Misaskim's headquarters," Comptroller Liu said toward the end of the meeting. "Misaskim is a world-class operation. There are so many instances where their services are needed." He praised Misaskim"s volunteers for their ongoing dedication. "What drives this organization is the dedication of the volunteers who give up their time and energy - it's thoroughly exhilarating, and an inspiration," he stated.

After leaving Misaskim's headquarters, the Comptroller went on to visit Yeshivah Rabbi Chaim Berlin, where he met with the Rosh Yeshivah, Harav Aaron Schechter.
View Photos
Back to previous page