Sefer Torah in Memory of Leiby a"h Underway
August 11, 2011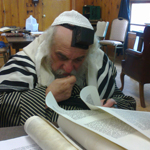 Misaskim began the process of obtaining a
Sefer Torah leilui nishmas
Leiby Kletzky
a"h.
Representatives met with Rabbi Yechezkal Roth,
Shlita
, to obtain his guidance in choosing the
yerios
and the
sofer
for this unique project. The
Rav
carefully reviewed the samples and consulted with members of his
Bais Din
and other esteemed
sofrim.
He then offered his recommendation.
The
Sefer Torah
campaign being written in memory of Leiby Kletzky
a"h
is being spearheaded by Misaskim in an effort to offer an everlasting comfort to the family and to Leiby's
neshamah.
People from countless communities around the world have come together to participate in this commemoration project and have expressed their heartfelt condolences to the family. Part of the funds needed for the
Sefer Torah
have already been raised. To participate,
click here
.
View Photos
Back to previous page