Opening the Gates of Summer Safety
June 16, 2011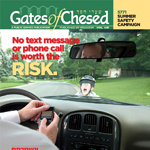 No need for added stress this summer, Misaskim will see you safely through the summer months with our newly expanded 84-page Gates of Chesed Safety Magazine. The magazine is set to be released next week and will be distributed to 100,000 families in the tri-state area. The magazine can also be viewed online at www.misaskim.org.

Gates of Chesed is comprised of gentle reminders, useful tips, and pertinent information that can be instrumental in safeguarding your family's wellbeing this summer season. In addition to exploring the factors that most commonly lead to motor vehicle accidents r"l, this issue of Gates of Chesed clarifies newly enacted laws and how abiding by them can prevent a summer trip from metamorphosing into a traumatic experience. While summer beckons us outdoors, Gates of Chesed firmly establishes a set of safety practices that will create a secure perimeter for your family without impeding the summer experiences that rejuvenate us all each year. You will meet highly-acclaimed safety experts who will share advice on how to safeguard our children and young adults. Various other issues that impact our communities each summer are also brought into focus as we invite you to partner with Misaskim in its prevention efforts.

This current issue of Gates of Chesed marks the tenth year that Misaskim has promoted summer safety. The experience we've gained each year has enabled us to take a lead in awakening practical and vital, awareness. Be sure to include the Gates of Chesed in your summer plans and please let us know your thoughts too. As always, our objective is to serve you better.
View Photos
Back to previous page