Misaskim Welcomes its 19th Sefer Torah
May 18, 2011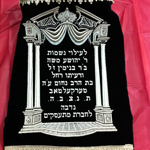 Last week, the Turkeltaub sisters - Brenda Elishis, Paula Kohn, and Cindy Turkeltaub - Grosberg a"h - alongside Misaskim volunteers, welcomed the 19th sefer torah to join Misaskim's family of sifrei torah. A joyous Hachnasos Sefer Torah was held at the Ohr Torah Shul in West Orange NJ. The Turkeltaub sisters donated the sefer torah in memory of their dear parents Shea and Rochelle Turkeltaub a"h.

"Our father a"h was the president of his shul, in addition, he took care of the Zawichost Chevrah. He was in charge of making sure that all was in order with minyanim, kedushim and every other aspect to ensure that the shul operates properly," Brenda said. "He would even bring home the silver to make it look shiny and beautiful. His entire being - body and soul - was dedicated to the shul." The sisters explained that donating a sefer torah is truly a very special and beautiful mitzvah and it very much reflects the values both parents instilled in their children.

The Turkeltaub sisters proudly honored their parents' memory at the Hachnosas Sefer Torah. However, the poignant overtones at the event revealed the significance of the day that the Hachnoses Sefer Torah was celebrated. It was the shloshim of their dear younger sister Cindy a"h. "Cindy so wanted this sefer torah be written in memory of our parents," Brenda said. "When Cindy a"h was sick, Yanky Meyer would make many trips to the hospital with progress reports on the sefer torah and the mantle. He brought up different klaf to show ... he brought samples of the mantle to make sure that Cindy was always involved."

"How much more fitting is it that we complete the sefer torah on her shloshim?" Paula concluded. Brenda explained that recently the family had unfortunately come to rely on Misasakim several times. "Time and again Misaskim was there assisting us in every way possible," she said. "We felt that Misaskkim is an amazing chesed organization. In a time when you're "tzibruchen" (broken hearted) and you don't know where to turn they help you every step of the way."

The Turkeltaub sisters were determined to donate the sefer torah to an organization where the torah was undeniably needed and will be in constant use. Thus Misaskim was privileged to be chosen as the recipients of this very special sefer torah. This sefer torah, along with rest of Misaskim's family of sifrei torah, are delivered to families who are sitting shiva. In some instances, the sifrei torah are sent to cholim who are homebound on Shabbos or Yom Tov and a minyan is brought to their home to ease their isolation.

Misaskim is committed to provide support and assistance during a crisis or a tragedy and has cultivated a network of relationships and processes that has now become integral to our community. Misaskim continues to be at the forefront of innovation in community services - handling one crisis at a time.
Back to previous page