Misaskim Welcomes Rabbi Yeruchim Silber
Date: May 24, 2011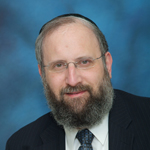 Misaskim is pleased to announce the appointment of Rabbi Yeruchim Silber as its Director of Community and Government Relations. Rabbi Silber's appointment highlights the rapid growth that is currently being experienced by Misaskim.

In addition to its popular G'mach Nichumim, Misaskim has expanded the variety of services it offers. In addition to many new communal initiatives that are now part of Misaskim's extensive roster, Rabbi Silber will direct the organization's effort to promote its mission to community leaders and government officials.

"Misaskim has grown by leaps and bounds and we now offer so much more than shiva chairs. Rabbi Silber's extensive experience as a community leader, as well as his background in government, makes him a perfect fit for the organization," said Misaskim's Director Yanky Meyer. "We're delighted to have attracted someone of the caliber of Yeruchim Silber to Misaskim."

Before joining Misaskim, Rabbi Silber served as the Vice President of Community Affairs for the Metropolitan Jewish Health Systems and has headed a successful fund-raising consulting firm. He has also served as the Founding National Director of Priority One – an outreach organization. Prior to joining MJHS, Rabbi Silber was Community Liaison to former New York City Council Member and current Public Advocate, Bill de Blasio, and has been involved in numerous political campaigns.

"I have known Yeruchim Silber for many years, and I know he will be a tremendous asset to Misaskim and their vital work," said Assemblyman Dov Hikind. "Yeruchim is sensitive, caring, and a consummate professional. The addition of Yeruchim's talents to the already extraordinary team at Misaskim is a win for all of Klal Yisroel. I wish Yeruchim every success."

Councilman David Greenfield offered the following kind words: "For years, Misaskim has advocated for our communities and now Misaskim will have an advocate of its own -- Rabbi Yeruchim Silber. I have worked with Yeruchim for years and am confident that he will be an outstanding advocate on behalf of Misaskim and the thousands of families they serve each year. I look forward to working with him to advocate on behalf of Misaskim."

Rabbi Silber expressed his enthusiasm soon after the announcement, stating that he is eager to broaden Misaskim's general support base. "I have always been a great admirer of Misaskim from a distance. To join this organization is an exciting opportunity for me and I look forward to the challenge," he commented.

Misaskim is committed to providing support and assistance during a crisis or a tragedy, and has cultivated a network of relationships and processes that has now become integral to the community. Misaskim continues to be at the forefront of innovation in community services, handling one crisis at a time.